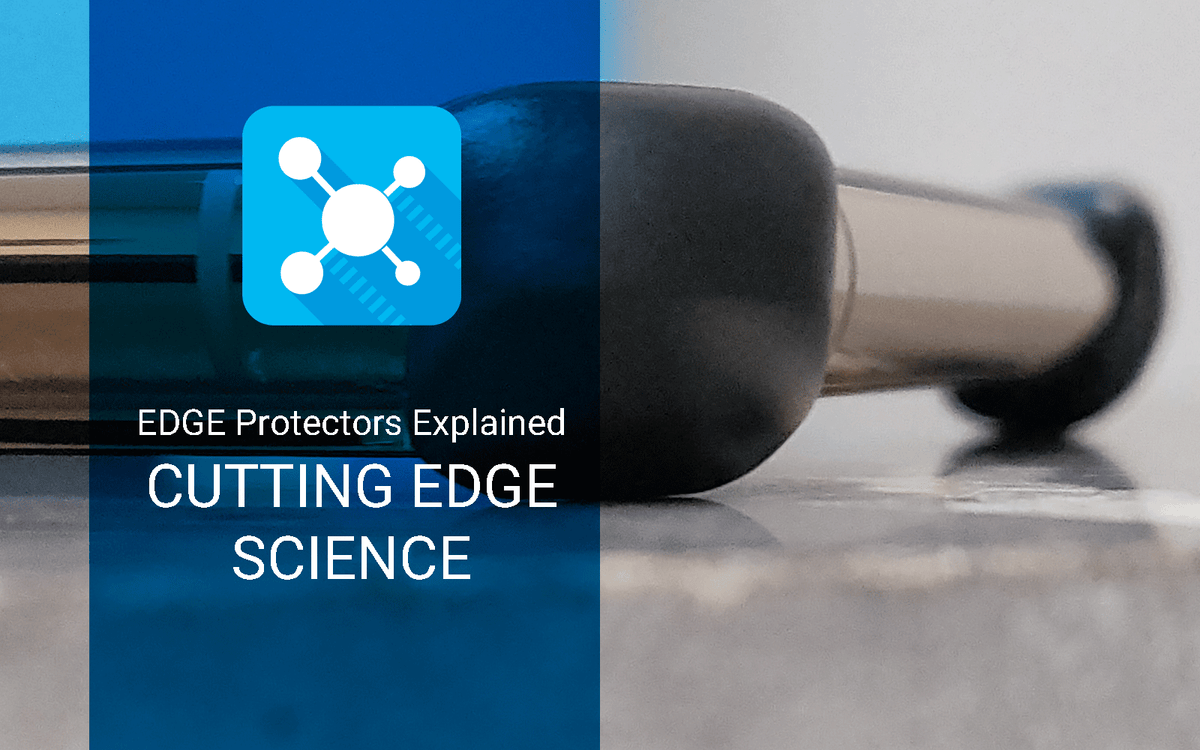 Cutting EDGE Science - Utomic® EDGE Protectors
iPhone XS Gold with Black EDGEs (R) and SNAP Case with RING (L)
Utomic
®
EDGE is an amazing, innovative way to protect and enjoy your iPhone.  It can seem almost magical when you see a phone take a tumble and survive the fall thanks to EDGE protectors.  Well, it is not magic but science and engineering that allow EDGE to work.
Dynamic Protection Like Helmets
Think of how a bike helmet protects your head.  The helmet is made of two layers, a hard-outer shell and a softer inner layer.  The hard-outer shell can shift and absorb energy during impacts because it has a softer inner layer that is loosely attached.  When an impact occurs, the helmet shifts which helps to redirect energy.  The inner layer crushes when the impact occurs and cushions the blow. The hard shell prevent penetration and allows for motion during impact decreasing jerking on the neck. The shell also keeps the foam in place for the impact. 
(MIPS Generic Bike Helmet Test)
Utomic EDGE applies the same principles of a helmet to protect your phone. The system is made up of four independent protectors instead of one rigid case which allows for dynamic motion to redirect energy.  The outer shell is made of a nearly indestructible material while the inner layer is made of impact dampening adhesive and foam.  Protect your precious brain with a helmet when you ride and your expensive phone with Utomic EDGE.   
FlexCore™ Outer Shell
Utomic EDGE's outer shell is made out of FlexCore™ which is an advanced resin composite taken from the biomedical industry. FlexCore™ is nearly indestructible to impact damage and has self-healing properties allowing it to take an impact and protect your phone.  Unlike cheap plastic, if you smash EDGE protectors repeatedly with a hammer, they will return back to their original shape without damage.  This is also not rubber which would hinder the phone from sliding during impacts which is beneficial to redirecting force away from the phone.  FlexCore™ is that perfect balance of being smooth and hard while also impervious to blunt force.  Also, FlexCore™ is infused with metal particles and solid colorant that won't fade.  This means your EDGE protectors will blend in perfectly with your phones with the same luster and beauty as your silver, gold, and rose gold aluminum while still protecting your phone.  
3M® Adhesive Foam Inner Layers
The inside of EDGE protectors is made up of incredibly strong 3M® adhesive layers.  Between those layers is an impact dampening foam. These layers are joined with the FlexCore™ outer shell with Utomic's proprietary bonding process to protect while creating a reliable bond. 
Made in the USA
To engineer such a marvel, we had to keep all processes of the design and manufacturing local.  Our engineering team is creating magic out of our office in San Diego, California.  Our FlexCore™ outer layer is made in Los Angeles, California while our adhesive is manufactured out of Minnesota and converted in Carlsbad, California.  We combine all of the elements at our facility in San Diego where all EDGE protectors go through a special assembly and bonding process and quality checked before shipping out to you.  This focus on being local is part of what makes EDGE protectors special.
As you can read, a lot of science and engineering goes into EDGE protectors.  What may seem simple and small takes a lot of effort.  We hope you get the opportunity to experience all the hard work that has gone into designing EDGE protectors.